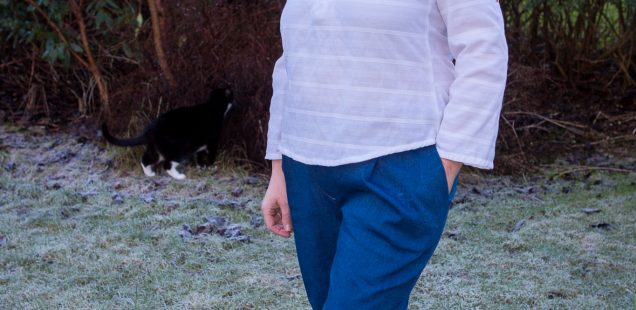 Paperboy pants pattern from Wardrobe by me
Det har været en lang stilhed efter et meget travlt efterår. Hvor min syning på ingen måder stod øverst på listen – desværre. Så mit nytårfortsæt er at sy det, som jeg mangler i min garderobe – og ikke mindst få brugt mit alt for store lager.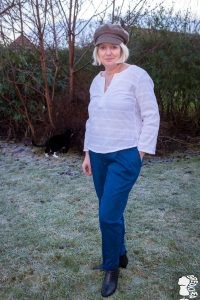 De sidste par år har jeg haft en såkaldt elevatorvægt, 5 kg ned – 7 kg op. – Så nu er jeg endt i den lidt grimme ende af skalaen, ikke ekstremt overvægtig, men nok til at jeg har valgt kjoler, som dækkede for min vægtstigning (jerseykjoler er glimrende til at skjule lidt ekstra på sidebenene). Derfor er det en lille udfordring for mig at sy bukser til mig selv. Tilbage i min slanke 20'ere syede jeg mange bukser af den klassiske slags med læg, indsnit, skrålommer, lynlås og pressefolder. Derfor var Wardrobe by me's testercall med bukser en kærkommen udfordring. Jeg er glad for min bagdel, men jeg er ikke venner med min topmave og talje, som er forsvunden sporløst.
Paperboy pants er et par klassiske bukser med læg, skrålommer og indsnit. Og så kommer det gode: de er syet i strikstof. Særdeles behageligt.
Du skal bruge:
En rest bomuld til lommeposer
4 cm/1.5 " bred elastik
Tråd
Vlies, der passer til dit stofvalg
Stof med stræk til dine bukserne.
Mit eget stofvalg er fra mit lager (bare for at holde ved mit nytårsfortsæt). Det er en kraftigt jersey, som ligner denim. Egentlig planlagt til endnu en kjole, men kender I det, at stoffet nærmest beder om at blive noget andet, det gjorde det her. Købt for længe siden hos Krøl design.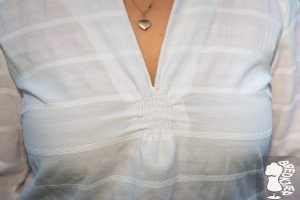 Min overdel er en af Wardrobe Be Me's ældste mønstre, lidt glemt – desværre. Blusen er enkelt, afslappet og nem at sy. Den lille detalje er en fin smocksyning midt for. (Smocksyning er et af mine smertensbørn 🙂 ) Piper Boho Tunic er helt sikkert værd at slå et slag for. Den er hurtig at sy, har som alle Wardrobe by Me's mønstre små fine detaljer: Smocksyning og muligheden for et opslag på ærmet. Mit stofvalg til Piper var en bomuldsrest af ukendt oprindelse. Og nej, mine striber passer ikke, jeg græmmes 😀
Paperboy Patterns har:
Bæltestropper
Falsk lynlås.
Et læg midt for
Skrålommer
Indsnit midtbag
Elastik i taljen midtbag (Hvilket gør bukserne meget behagelige at have på.)
Opslag på bukserne (kan vælges fra)
Min egen lille nørde-detalje var pressefolder. Jeg er og bliver lidt synørdet.
Bukserne er hurtige at sy op. Sæt tre timer af en eftermiddag, og du har et par elegante bukser, der ligner skræddersyede bukser, men føles som joggingbukser. Et eksempel fra et par af de andre testere er: Ilse Lemmens og Dagbjört – begge testere, som jeg har beundret, siden jeg startede med at teste for et års tid siden.
Paperboy Pants er på tilbud i kort periode, så hiv et par timer ud i en weekend og sy et par behagelige bukser, der ligner en million og føles behagelige 😀
The english version:
It has been a long silence after a busy autumn. Where sewing has not been on the top of the list – unfortunately. Therefore, my New Year Resolution is to sew what I am missing in my wardrobe – and not least used my too big stash.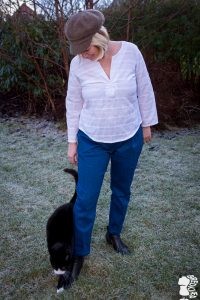 The last couple of years I have had a so-called Weight Fluctuation: 5 kg down, 7 kg up (11 lbs down, 15 lbs up). Right now, I am in the bad end of the scale. Not extremely overweight, but enough, so I have been choosing dresses, that could cover up my weight gain (dresses in jersey are excellent to cover over a couple of too many pounds.) That is why it has been a little challenge for me to sew pants to myself. Back in my twenties, when I was slim, I did sew a lot of trousers – classics pants with pleats, slanted side pockets, front fly, back darts and creases. Therefore, the tester call from Wardrobe By Me was a welcome challenge. I love my behind, but I have not made friends with my potbelly and my waist, which has been around for some years.
The Paperboy Pants are a classic pair of pants with pleats, slanted pockets and back darts. The best is yet to come: They are sewed in knit fabrics. Very comfortable.
You will need:
Lightweight cotton for pocket lining (Use a leftover fabric)
1,5″/4cm wide elastic
Thread to match the fabric
Interfacing appropriate to your fabric
Fabric for the pants
My choice of fabric from my big stash (just to keep my New Year Resolution) is a heavy jersey – a denim look alike. It was really planned for another dress, but do you know when the fabric is almost asking to be something else? This fabric did! The fabric was bought at Kröl Design a long time ago.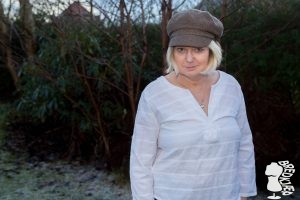 My blouse is one of Wardrobe By Me's oldies but goodies, almost forgotten – unfortunately. Piper Boho Tunic is simply relaxed and easily to sew. It has a nice little detail: Smocking. (Smocking is not one of my favourites). The Piper Boho Tunic is absolutely worth talking about. It is a fast sewing, and has as all the patterns from Wardrobe By Me nice little details: Smocking and the option for cuffs. My choice of fabric to the Piper was a leftover of cotton from my stash. I cannot remember where it is from. And no, my stripes are not correct – my fault.
The Paperboy Pants has:
Belt loops
Fake front fly
Single front pleat
Slanted side pockets
Back waist with elastic
Back dart
Optional cuff
The pants are easily to sew. Use three hours a afternoon. and you have a elegant pair of pants, which look like a pair of tailored pants, but feels like a pair sweat pants. Some examples from some of the other testers are: Ilse Lemmens and Dagbjört – both testers, that I have been looking up to since I started testing for over a year ago.
The Paperboy Pants are for sale in a short period, so take a couple of hours in the weekend and sew a comfy pair of pants – they look like a million.