Kristin Dress – how feminin it is.
.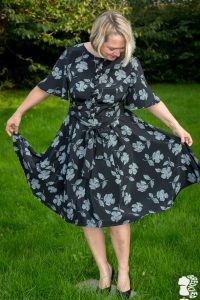 For snart 18 år siden havde country sangerinden Shania Twain et hit med titlen: "Man! I feel like a woman", og det er lige nøjagtig det, som jeg gør i DesignerStitch sidste nye kjole. Den er smuk i alle størrelse og så en buttet og kurvet str. 42. Et skørt med swing i, der falder flatterende og smukt om hofterne. Vi var testere i alle størrelser og faconer. Selvfølgelig er der ikke meget tøj, som ikke er smukt, velsiddende og flatterende i size 0-2. Men ærligt så har jeg efterhånden lært at elske med mine meget kvindelige former, og for det meste klæde mig ud fra det. Kjolen blev faktisk godkendt af mine to hårdeste dommere. Min kæreste og min datter. Mens jeg fik et anerkendende blik med på vejen af min store søn på 17.
Kristen kjolen skal syes op i en let kvalitet stof, som viscose, let bomuld, crepe eller silke. Stoffet skal kunne falde flot. Jeg havde fundet en lækker kvalitet i chiffon fra Stof og Stil på udsalg. Kjolen giver mulighed for tre udgaver, to forskellige længder ærmer og en udgave med flæse i ærmegabet. Der er en beskrivelse af kjolen uden ærmer hos en anden dansk tester Lone Thomsen. Jeg valgte udgaven med det længste ærme. Det er en kjole, som jeg vil bruge så langt ind i efteråret som muligt. Jeg er nemlig helt vild med den. Kjolen har en flæse midt for og en flæse i halsudskæringen. Flæsen i halsudskæringen havde jeg det rigtigt dårligt med. Den var klædelig på alle andre testere, men jeg tillod mig at droppe den.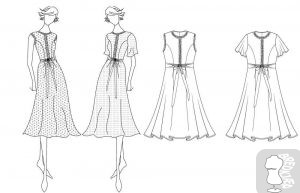 Det er en kjole, som jeg vil bruge til en aften i byen med min kæreste, en venindetur, julefrokosten eller en bryllupsfest. Jeg har allerede haft den på til en middagsaftale med min kæreste.
Overdelen på kjolen har prinsesseindsnit og skørtet har dybe wienerlæg både for og bag. For at gøre tilpasningen ekstra nem, så fås modellen i str. 34-54 og skål str. B-DD. Jeg har syet kjolen op i en str. 42 (skål C) og tilrettet min talje til en str. 44. Sy overdelen op i en kvalitet stof, som svarer den kvalitet, som du ønsker, at sy kjolen op i, og ret til. Det er det hele værd. Ja, tilretning er frygteligt besværligt. Men er det ikke gode ved at sy selv, du får en et stykke tøj, som passer til dig alene. Specielt i fast vævet stof. Som jeg har en svaghed for.
Indkøbsliste:
3 – 4,5 m (kommer an på bredde, ærmer og bælte.)
55 cm usynlig lynlås
matchende tråd
50 cm vlieseline
I øjeblikket er Kristen kjolen på tilbud til 57 kr – normal prisen vil være 88 kr. Tjek den her.
The english version:
About 18 years ago the country singer Shania Twain made a hit called: "Man! I feel  like a woman", and this is exactly what I do in the newest dress from DesignerStitch. It is beautiful in all sizes, also in a chubby and curvy size 42. The skirt has a swirl, that falls flattering from the hips. We were testers in all shapes and sizes. Of course there is not much cloth, there isn't beautiful, flattering and well-fitting in a size 0-2 (34-36). But honestly I have learned to love my curvy female shape, and mostly dress after it. In fact the dress got thumbs up from the two hardest judges. The man in my life and my daughter. My 17 year old son gave me a appreciatively look.
The Kristen Dress has to be sewn in a light fabric, like viscose, light cotton, crepe, rayon or silk. The fabric has to be soft and flowing. I had found a really delicate quality of chiffon from Stof & Stil on sale. The Dress has 3 opportunities: 2 different sleeves length and one sleeveless with a ruffle. There is a description of a sleeveless dress from another Danish tester, Lone Thomsen. My choice was the dress with the longest sleeves. It is a dress, that I will use as long as possible in the cold Danish autuum. I am really crazy about this dress. The Dress has a ruffle in the centerline and one in the neckline. The ruffle in the neckline did not work for me. It was flattering on all the others testers, but I made the choice not to use it.
It is a dress, that I will wear on a night out with the man in my life, with my friends, party with colleagues or to a wedding. I have already worn it on a date night with the man in my life.
The dress has a princess shaped bodice, and the skirt has deep inverted pleats on both front and back. To make the fitting even more easy, the dress can be made in size 34-54 and cup B-DD. I have sewn my dress in a size 42 (cup C) and made my waist fit a size 44. Just an advice: make a muslin in a fabric like the fabric, that you will sew your dress in. It is worth it. Yes, it is boring to make muslins. But is it not the best when you are making your own clothes that it fits you. Especially in woven fabric. Which I have a weakness for.
Shopinglist:
3 – 4,5 m fabric (depends on choice of sleeves and belt.)
55 cm zipper (invisible)
Matching thread
0,5 m interfacing
At the moment the Kristen Dress is on sale for $8.95 – the prize normally is $14.00. Check it out here.