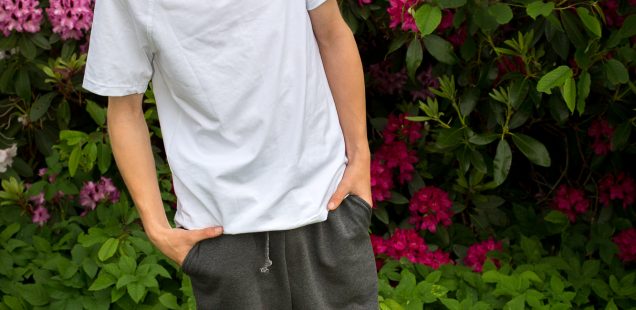 Rebel Sweatpant og shorts.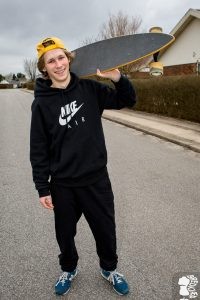 For et par måneder siden havde jeg chancen for at pre-tester et par sweatpants til mænd for Christina Albeck. Min 17 årige var helt med på ideen. Bukserne har været brugt en hel del gange, at vi så som mor og søn ikke er enige om placering af bukser og synlighed af boxershorts, men det er en helt anden historie. Så da Christina Albeck kaldte på testere til sine nye Rebel Sweatpant, meldte jeg mig med det samme. Min søn er en meget normal dansk teenager med en baggy tøj-stil. Så Wardrobe By Me's design til mænd falder altid i god jord hos ham. Christina har fundet en stil, der appellere til mænd i alle aldre. Vi kunne også se billeder af både voksne mænd og unge drenge (yngre end min søn) i denne test.
A few months ago, I had the chance to pre-test a pair of Sweatpants for men for Christina Albeck. My 17 years old son liked the idea. The sweatpants have been used many times, so much so that we as mother and son can't agree where on the hips the trousers are and the visibility of the boxer shorts, but that is a completely different story. So when Christina Albeck made her tester-call for her new Rebel Sweatpants, I immediately joined. I really like testing for Christina. My son is a normal Danish teenager with a baggy stile. So Wardrobe By Me's design for men are always a favorite for him. Christina has found a stile, that appeals to men of all ages and types. We could see pictures of both adult men and young boys (younger than my son) in this test.
Bukserne er nemme at sy op. Som den anden danske tester og jeg blev enige om, så er det rart engang i mellem at sy noget, der bare skal flyve gennem overlockeren. En ting er at elske at nørde med syning og lave kæmpe projekter som mine vinterjakker og Blixen Blazeren, noget helt andet er en gang i mellem sy noget, som går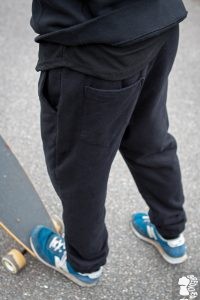 stærkt, men stadigvæk ser professionelt ud.
The Rebel Sweatpants are easy to sew. The other Danish tester and I agreed, that it is nice sometimes to sew something, that just moves fast throw the overlocker. One thing is to love to nerd with sewing and make big projects like my winter coats and the Blixen Blazer, something else is for once sewing something that is fast but still looks professional. 
Mønsteret er som altid et PDF-mønster og på engelsk. Som ja, det kræver lidt tape og kravlen rundt på gulvet for mit vedkommende. Når jeg skal sy, så invaderer jeg til hele familiens store protester spisebordet. Resultat mindst 1/3 del af husets spisebord flyder med symaskiner, stof, sakse og nåle. Det giver panderynker hos husets meget ordentlige og skønne 13 årige og rysten på hovedet fra de mænd i husstanden. Kattene har endnu ikke indgivet protester i plenum. De mener, at stof og mønster på gulv er nye steder at ligge på.
The pattern is as always a PDF Pattern and it is writing in English. Yes, it does require some tape and crawling around the kitchen floor for me. When I sew, I am invading the table in the kitchen with protests from the family. The result is that nearly 1/3 of the dining table is covered with sewing machines of all kinds, needles, scissors and fabric. It brings frowns the forhead of the houses beautiful and very tidy 13 year old, and the men in the house just shake their heads. The cats have not yet given any complaints. They just think that fabric and pattern on the floor are new places to play on.
Bukserne har skrålommer, baglomme og kan sys op i to længder. Med eller uden rib i de lange bukser. Der er opslag i de korte bukser, men et par af testerne valgte det fra og fik et fint resultat. I tajlen er der syet rib med elastik. Bukserne fås i str. 2xs til 3xl. Så der er fra teenagere til fuldvoksne mænd. Min 79 årige far og bror (et hemmeligt sted i 40'erne) har lagt bestillinger ind.
The Rebel Sweatpants have slanted pockets, back pocket and can be sewn in two lengths: with or without rib cuff in the long pants. On the shorts there is a cuff, but some of the testers chose not to make it and it was a fine result. The waistband is cut in rib fabric. The sizes are between size 2xs and size 3xl. So there are pants for both small teenagers and full grown men. My father who is 79 years old and my brother (who is a secret place in 40 something) have both given orders.
For at sy bukserne skal du være en advanceret begynder, skrålommerne og baglommen kræver lidt præcision. Med en smule hjælp kan du sagtens gå i gang med dette mønster. Stofkvalitet er isoli, ponte de Roma eller lign. Det valgte stof skal dog indholde lycra eller elastan.
To sew the Rebel Sweatpants you can be a beginner or an advanced beginner, slanted pockets and the back pocket requires some precision. With some help, it is a great pattern to start with. The fabric is designed for a medium weight French Terry, Ponte de Roma or something like that. The fabric must include lycra or elastane.
Den sædvanlige huskeliste til mønsteret indeholder flg.:
1,1-1,6 m stof (isoli eller lign. kvalitet)
Rib i matchende farve
Sytråd i matchende farve
Bindebånd til linning
Elastik til linning
Tvillingenål
Evt. Prym ringe til bindebåndet (sybeskrivelsen siger knaphuller som løsning)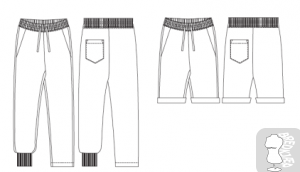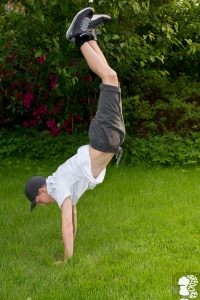 The usual wish list to the pattern requires:
1,1-1,6 m fabric (French Terry or something like that)
Rib in a matchning colour
Sewing thread in matching colour
Ties to the waistband
Elastic for the waistband
Twin needle
Maybe Prym eyelets with washers (The instructions says buttonholes as an option.)
Mit valg af stof er for begge par bukser fra mit lager. Jeg prøver virkelig at gjort det mindre. 🙂 Sammenlagt sy- og klippetid er vel omkring 3 timer.
My choice of fabric was for both pants from my stock. I am really trying to make it smaller 🙂 Total time with cutting and sewing is about 3 hours. 
Mads har sammen med sine shorts en Bram t-shirt på, jeg har før blogget om den. En lækker herre t-shirt, der findes i størrelse 2xs – 3xl. Hvor længe den hvide t-shirt forbliver hvid, det vil jeg som mor ikke spå om 🙂 Mads' første ord om shortsene var: "De er Cozy!", og det vil jeg som mor mene, er et udtryk for, at de er godkendte 🙂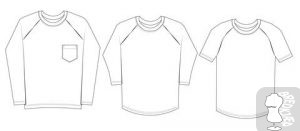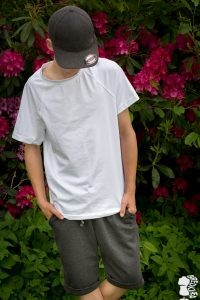 Mads is wearing a Bram T-Shirt with his Rebel shorts. I have blogged about this one before. A great T-Shirt for men in size 2xs to size 3xl. How long the t-shirt is white, a mother cannot tell. The first word Mads said about the shorts was: "COZY!", and from a mothers view that must be more than okay.
Indtil d. 16. juni er Rebel Sweatpants på tilbud hos Wardrobe By Me. Skulle du som kvinde have lyst til at få et par nye joggers også, så har Wardedrobe By Me tilbud på begge par i denne uge.
Until June 16th the Rebel Sweatpants are on sale at Wardrobe By Me. If you as a female want a pair of joggers too, then Wardrobe By Me have both pairs on sale this week.