Summer Tulip Top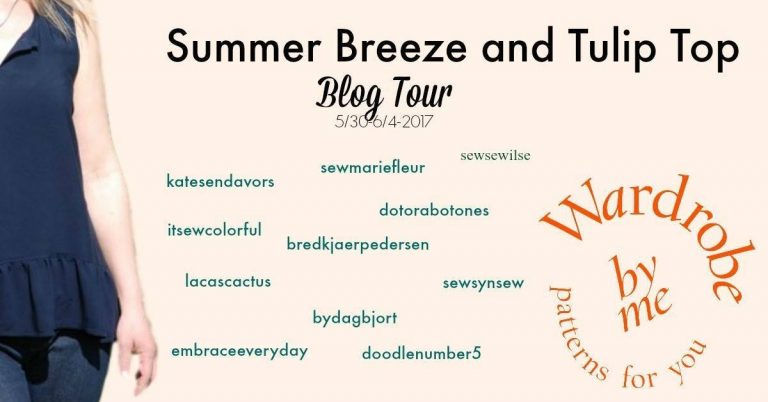 Jeg deltager for første gang i en blogtour, og hvem andre end Christina Albeck fra Wardrobe by Me kan lokke mig til det? 🙂 I dag har jeg fået lov til at deltage sammen med en anden blogger Synthia Lee Garritson, hendes blog er SewSynSewn. Christina har designet foreløbig to skønne og anvendelige sommertoppe Summer Breeze og Tulip Top. På touren er vi 12 bloggere med forskellige nationaliteter: Norge, Island, Danmark, Belgien og USA bare for at nævne i flæng.
I am participating for the first time on a blog tour, and who else than Christina Albeck from "Wardrobe by Me" can get me to do something like that? 🙂 Today I am participating with another blogger Synthia Lee Garritson, her blog is SewSynSewn. Christina has designed to lovely and usable summer tops Summer Breeze and Tulip Top. We are on the tour 12 bloggers with nationalities from: Norway, Iceland, Denmark, Belgium and USA just to mention a few.
Her på blog touren er der en konkurrence på Wardrobe By Me Pattern Support på Facebook. Læg en kommentar ind under billedet af dagens bloggere og deltag i konkurrence om at få et af de to pdf-mønstre.
On the blog tour their is a competition on Wardrobe By Me Pattern Support on Facebook. Add a comment on the blog link of the day, and by a part of the competition where you can win one of the Summer Top Pattern.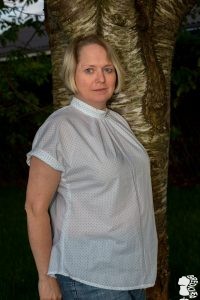 Jeg har allerede fortalt om den søde Summer Breeze Top. Så er der den anden, og ikke mindre skønne, Summer Tulip Top. Den er klassisk og enkel, og meget anvendelige. Mit stofvalg blev fra mit alt for store lager. Et stykke hvidt bomuld  med lyseblå prikker af ukendt oprindelse. En af mange fordele ved denne top, det er, at den ikke sluger ret meget stof. Har du en rest liggende (har de fleste syerske ikke det??) på en meter, så kan du få en klassisk og elegant sommertop. Der er heller mange sytimer i toppen. Sæt 2-3 timer af, og du har en top, som dine veninder vil misunde dig.
I have already talked about the cute Summer Breeze Top. Then there is the other one – and no less wonderful – Summer Tulip Top. This Top is simple and elegant, and very useful. My choice of fabric was from my too big stock. A piece of white cotton with light blue dots of unknown origins. One of the good things with this top, is that it doesn't use a lot of fabric. Do you have a meter of fabric in your stock (and don't we all?), then you can sew a classic and elegant summer top. There isn't a lot sewing hours in this top. Give it 2 to 3 hours, and you will have a top, that your friends will envy you for.
Toppen fås i str. 30-50 højde 172 cm. Jeg er selv str. 42 og 162 cm. Toppen er designet med en lille krave, der er lukket med slids og knap midt bag, hængende skuldre, som afsluttes med et opslag og en buet oplægning. Der er en fin lille detalje midt for med rynk.
The top is available in size 30-50 model size 172 cm (5″8′). I am a size 42 and 162 cm (5″4′). The top features a neckline gathered in collar, dropped shoulder with cuff, curved hemline and slit and button center back. 
Mønstret inkluderer layers, hvilket vil sige, at du enkelt og nemt printer din egen størrelse. Der er iberegnet sømrum, hvilket er en luksus for dovne syerske som jeg. Samt ikke mindst en fuldt illustreret sybeskrivelse. Ja, det er på engelsk, men se på tegningerne og så går det nemt.
The pattern includes layers, which means that you can easily print in your own size. The pattern includes seam allowance, which is a luxury for lazy seamstresses like me. And not least fully illustrated instructions. Yes, it is in English, but the illustrations make it easy.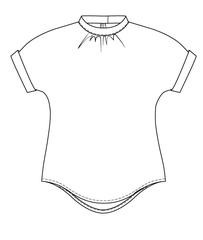 0,9-1,5 m stof i en kvalitet med et pænt fald. Bomuld, viscose, silke, polyester eller et mix.
tynd vlieseline
1 lille knap
sytråd i en matchende farve
For the top you need:
0,9 – 1,5 m light woven fabric in fiber such as cotton, viscose, silk, polyester or a blend. The best result is achieved with a nice soft draby fabric
Interfacing
Small button
Sewing thread in a matching colour.
Toppen vil blive en del af min sommergarderobe, den er skøn på en varm sommerdag og under en cardigan eller måske jakken Blixen i et køligere vejr. Lige nu er begge top til salg til $7 ind til den 31. maj 2017.
The top will be a part of my summer wardrobe. It is wonderful on a hot summerday and dressy under a cardigan or maybe a blazer like Blixen. Right now both tops are on sale to $7 until the 31th of May 2017.
Resten af blog touren er vist nederst i bloggen 🙂
The rest of the blog tour schedule:
5/30-2017